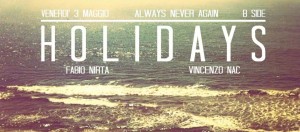 ALWAYS NEVER AGAIN presenta:
H O L I D A Y S + FABIO NIRTA & VINCENZO NAC
Venerdì 3 Maggio B-SIDE di Rende (CS)
H O L I D A Y S is unique sounds and visual universes. Holidays is the midnight summer's dream. the one that will make you dance until dawn, when those fragile morning lights will lead you home.